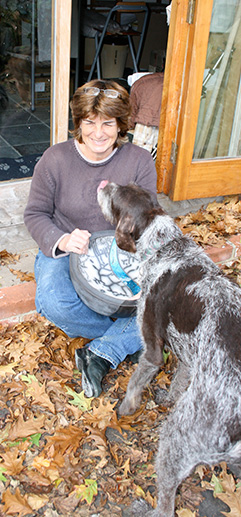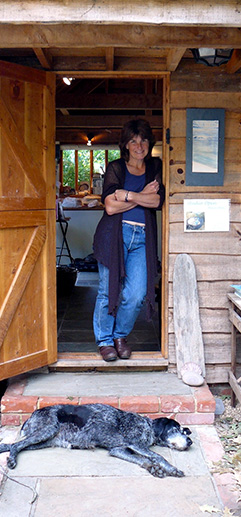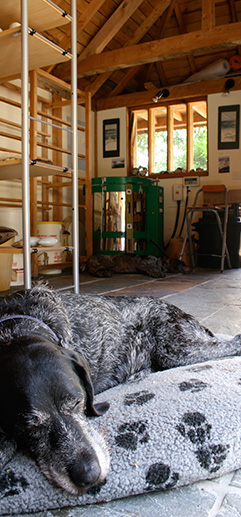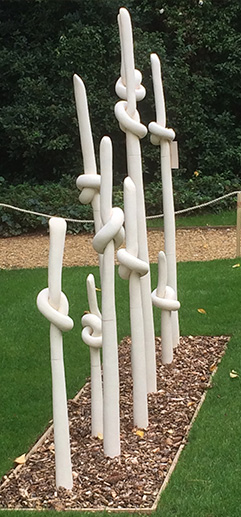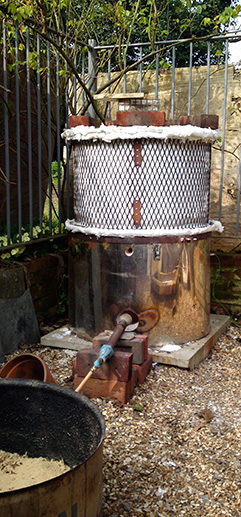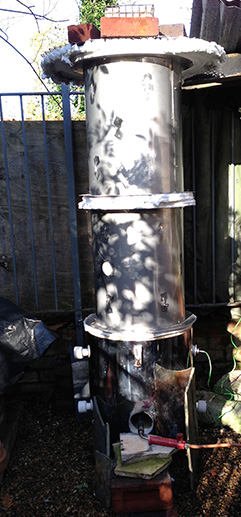 I make ceramic sculpture, experimenting with combinations of clay bodies and kiln firings.
Using hand building methods means each piece evolves slowly, enabling it to develop its own character, to become individual while still retaining evidence of the maker. The technical challenges of working with clay and fire provides an endless fascination, each piece I complete proves to be the catalyst for the next.

Numerous other cultures and artists have influenced and inspired this body of work, some more obviously than others, but the most direct inspiration comes from my own collection of beach stones.

I attended an amazing foundation course at Colchester (1975-1977), made brilliant by the inspiring tutorage of Phillip Ardizzone, followed by a BA Hons 3D Design course at Middlesex Polytechnic (1977-1980), which I survived thanks to Mo Jupp and my boyfriend Mark. It was while at college I first experimented with Raku, building a kiln on an extremely steep sided field in Somerset.

Mark and I married in 1981 and moved to the Isle of Wight. I worked for some time at Carisbrooke Pottery then set up a studio in Sandown and continued working with clay until starting a family in 1987. It was 2006 before I was able to set up a studio again, and the intervening years of dog walking the same amazing beach at Bembridge gave me time to think and observe, when I began making again I had a clear idea of what I wanted to produce and why. Having such a long break from using clay allowed me appreciate what an important element it brought to my life, how pleasurable it is to be so totally absorbed in making that you lose all track of time.
Art in Clay at Hatfield House
Art in Clay at The Maltings, Farnham
Oxford Ceramics on the Association Stand
Rope Store Gallery, Quay Arts, Isle of Wight
following a feature in 'Coast' magazine in February 2012
Rope Store Gallery, Quay Arts
Bembridge Sailing Club, Isle of Wight
Garlic Farm, Newchurch, Isle of Wight exhibitions following a feature in 'Coast' magazine in February 2012 with Mandy Bangerter, Gerry Price and Penny Walford
A collaboration with English Heritage at Osbourne House
A collaboration with the Damerham Archeological Project, exhibitions at:
The Red House Museum, Christchurch
Brading Roman Villa, Isle of Wight
The Gallery, Kingston University
'250th Anniversary of William Cobbett' at Farnham Museum
'25th Anniversary of QuayCrafts' at the West Gallery, Quay Arts
'A Place Between' Pelham House Gallery, Cowes
at Quarr Abbey, Fishbourne, Isle of Wight with Martin Swan and Sarah Talbot
Southern Ceramic Group Exhibition, Bishops Kitchen, Chichester
Isle of Wight Arts Open Studio
Annual studio openings from 2006
Southern Ceramic Group and Wey Ceramic Society